A pie is always a good dessert to enjoy with the family and that we can replicate from home without mentioning that there are different flavors since the ingredients it incorporates allows us to let that culinary creativity fly by preparing new recipes in an extremely easy way. And this time the orange will be the star fruit of the aperitif and will contain all the flavors of this popular citrus.
The best thing about this mode of preparation is that you can make a dessert without gluten, a protein that is naturally found in some grains or cereals, such as wheat, barley, and rye, which many of the times some people prefer to avoid over at all costs when having celiac disease and preferring other healthier options.
Don't you have dessert to receive the year? Make a delicious pumpkin pie
With this orange pie, you will not have to worry about gluten and with few ingredients, you can prepare it from home, you can also control the amount of sugar, in case you like to delight a low-sugar dessert and make a version suitable for the whole family. Now is the time to follow the recipe step by step and encourage yourself to prepare it.
Ingredients:
240 gr of all-purpose flour
90 gr of cornstarch
10 g of baking powder
3 gr of Salt
110 gr unsalted butter
200 gr of sugar
2 pcs of eggs
1 tbsp orange zest
1 tbsp ground cinnamon (optional)
120 ml natural orange juice
1 tbsp vanilla essence (optional)
Orange slices to decorate
Preparation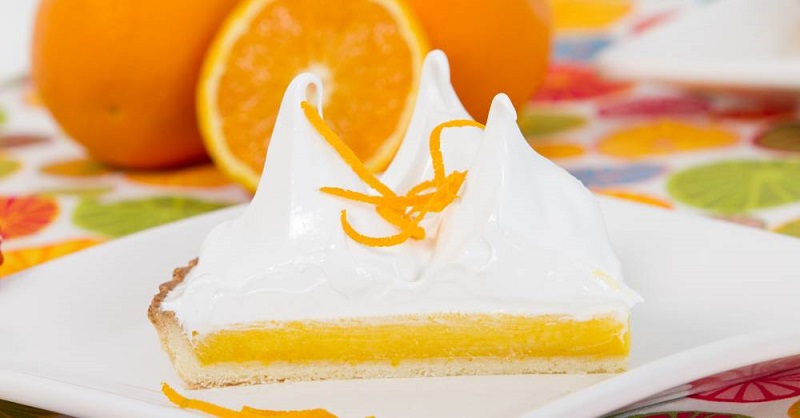 Preheat the oven to 180 ° C, in a container begin to beat the butter, it is important that it is at room temperature so that it has a consistency like an ointment, mix until obtaining a smooth cream, then add the eggs one by one and integrate very well, pour in the zest, ground cinnamon, vanilla essence and orange juice little by little, beating and integrating with enveloping movements.
Do not forget to sift the flour, cornstarch, baking powder, and salt, and add to the blender mixture, until perfectly integrated. Pour into a previously greased aluminum mold and bake at 180 degrees for 30 minutes, or until a toothpick inserted comes out clean and without lumps.
Once that time has passed, let it cool down to room temperature, unmold and decorate with the orange slices , cut into equal pieces and also offer with a cup of tea or coffee.
It is time to enjoy a delicious GLUTEN FREE orange pie with this recipe that you should encourage yourself to prepare from home since it is not difficult to replicate and in a short time you can have a sweet treat to pamper the family.