Looking for bridal inspiration for your wedding? Check out these wedding decoration tips and feel like a wedding planner copying ideas for the "I do". Take note!
Are you planning to walk down the aisle soon? Then you will be interested to know that in the decoration of autumn weddings, nature will continue to be the protagonist. And that if you take note of these essentials in bridal trends, you will achieve a "wow effect" on your big day. What are you waiting for?
Natural Details
Details created with fibers, trunks, branches, dried or preserved flowers… in the decoration of autumn weddings, anything goes to get a little closer to nature. Most likely, the celebration will take place in a totally idyllic setting, so the country touch cannot be missed.
Let's Not Miss The Flowers!
Check the seasonal flowers and always opt for natural plants both in the centerpieces and in the bridal bouquet. You can also decorate the altar with them and put them in little corners to add comfort to the space. Any advice for fall weddings? Opt for wild and aromatic flowers such as eucalyptus, jasmine, or lilacs.
Calm Tones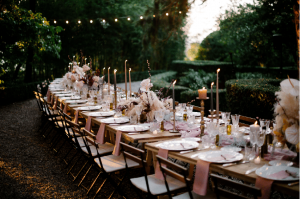 This season of the year calls for "homey" tones, soft and neutral. Some example? You can choose accessories in cream and sand colors or a basic that never fails in any decor: white. Orange, reddish, or bluish green tones are also very autumnal. They will triumph!
Spaces To Share
Outdoor furniture plays a very prominent role in the decoration of fall weddings since outdoor banquets continue to be a trend. An option that never fails? Combine natural fiber chairs such as rattan or bamboo with wooden tables. You will be amazed at the result when combining the pieces with the table linen.
Differentiated Environments
When it comes to placing the furniture around the room, stay away from symmetries and play with the space! Encourage interaction by creating different environments to sit or share further away from the banquet. Thus, the guests will be able to distribute themselves around the garden in a more intimate way, while avoiding crowds.
Lighted Garlands And Trees
Garland lighting will continue to feature prominently at outdoor fall weddings. This light resource has been a trend in wedding decoration for some time now. But the truth is that it does not surprise us, because they create a unique and welcoming atmosphere. Give a touch to the deco by adding some hanging lamps.
Tables Dressed With A Lot Of Personalities
Another of the highlights of this bridal season is the details that give personality to the table. With lanterns, saucers, glass vases, or engraved plates, you will be right for sure! You can even put some autumn leaves, such as chestnut. As for the tablecloths, it is better to opt for linen or satin. Do you dare to mix textures?
Finally, do not lack details designed for each guest. Show them that they are important to you and you are happy to share "the big day" with them.
You may like to read The six golden rules for healthy hair