If today it's time to have a quick and easy dinner on the sofa, you need to take a look at these 10 quick and easy recipes to cook. With which of all do you stay?
Express Sliced ​​Bread Pizza
She's the queen of couch dinners. But if you prepare it yourself, it is sure to be much healthier than a pre-cooked one. And if what you want is not to make the dough, no problem, with sliced ​​bread some delicious pizzas come out.
Corn Fajitas With Guacamole, Vegetables, And Tofu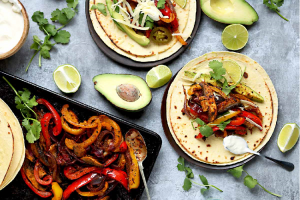 Easy and convenient to eat (especially at an impromptu dinner on the couch), fajitas are one of the most famous Mexican dishes. They can be filled with (almost) anything and these fajitas, with guacamole, vegetables, and tofu they are perfect for vegetarians.
Did you like the recipe? If you want more dinner ideas, in the eBook 100 healthy dinners you can find up to 100 recipes classified by family, quick or special to lose weight.
Quiche With Vegetables And Cheese From Burgos
If you like savory tarts, quiche is sure to be on your list. Enjoy the smoothness of a Burgos vegetable and cheese quiche while you prepare a healthy dinner that is perfect to have on the couch.
Hawaiian Poke
Do you fancy a light and fresh dinner that is also easy to make? Poke, a Hawaiian dish, has long conquered the hearts of many foodies. And we have the recipe for the best poke so you can make it at home and enjoy this salad with marinated fish on the couch.
Puff Pastry Tart With Ham, Brie, And Peach
Those who love puff pastry this evening will love it. It has it all: dairy, protein, and vitamins. The peach gives the original touch to the palate. Do not miss the step by step to prepare this ham, brie, and peach tart.
Chicken Sandwich With Tomatoes And Lamb's Lettuce
Having a snack on the sofa is easy and comfortable. Make your dinner a little healthier and enjoy a "sandwich" of chicken with tomato and lamb's lettuce. Delicious!
Aubergine And Brie Croquettes
Chicken, ham, boletus, fish croquettes… All the types you can imagine. But have you tried the aubergine and brie croquettes? They are great and are ideal for snacking while you watch your Netflix series on the couch.
Caesar Salad
In the Olympus of salads, you will surely find the Caesar. Make it healthier by swapping one of its ingredients for fresh spinach. Discover our Caesar salad recipe and enjoy it on the sofa.
Cochinita Pibil
Without a doubt, it is one of the most famous (and richest) tacos. And although a good pibil cochinita requires time, the result is worth it.
Banana, Chocolate, And Cream Tacos
Dining on the couch doesn't mean skipping dessert. This banana, chocolate, and cream tacos will be the final culmination of your favorite dinner of the week.
You may like to read  The six golden rules for healthy hair